 [Address]
〒780-0822
Kochi [Address]
〒781-4224
Kochi [Address]
〒787-0015
Kochi [Address]
〒781-0262
Kochi [Address]
〒789-1911
Kochi [Address]
〒781-4212
Kochi [Address]
〒781-1165
Kochi [Address]
〒780-0051
Kochiatagomachi 2-19-1kochicity [Address]
〒780-8011
Kochiumenotsuji9-20 kochicity [Address]
〒781-7101
Kochi [Address]
〒787-0316
Kochi [Address]
〒780-0052
Kochi [Address]
〒780-0901
Kochi780-0901 Kochi, Kochi, Kamimachi 2-5-34, Japan
Built in 1874, with over 140 years of history, Located at the heart of Kochi City, this hotel affords easy access to sightseeing spots. The hotel boasts of a panoramic open-air bath where guests can relax while looking down at the Kochi Castle Town area.
Lowest price plan

Searching for accommodation plan for each facility.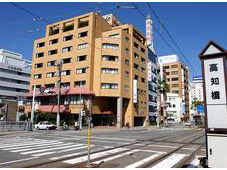 [Address]
〒780-0053
Kochi [Address]
〒780-0843
Kochi
There is no accommodation that can make a reservation at the specified conditions.